Add Images

---

While the Food Bank of Northeast Arkansas may be considered the hub of the hunger relief system in Northeast Arkansas, we certainly couldn't do this work without our partner agencies. Our partner food pantries, soup kitchens, shelters, and programs are our hands and feet in the local communities where they live, work, and serve.
2020 presented many challenges, but it also presented some unique opportunities for the Food Bank of Northeast Arkansas. Through the generosity of grantors, the Food Bank of Northeast Arkansas was able to...
---
Woodruff County Food Pantry
"We received a couple of food credits last year which were very helpful. One of them was because we stayed open through COVID.
"We were very blessed to receive a grant for a walk-in cooler. We had been talking about needing one. It is really great when we get a lot of produce; it certainly extends the shelf life of produce.
"We received funds to pay for a carport/awning to use outside after switching to drive-thru only. We also received funds to purchase a heater. This was really appreciated, it helped us stay warm and dry while still providing services to our clients."
-Martha Ray, Director
Woodruff County Food Pantry, Augusta, AR
---
Cherry Valley Food Pantry
"We opened the Cherry Valley Food Pantry in 2009. The Food Bank is literally the mechanism that keeps our pantry operating. We couldn't do it without the Food Bank. They supply us with the products to give to our families like fruits and vegetables that they cannot afford. But more than that, they are a source of inspiration and motivation. They keep us going. Thanks to everyone at the Food Bank."
-Joan Ball, Director
Cherry Valley Food Pantry, Cherry Valley, AR
 
---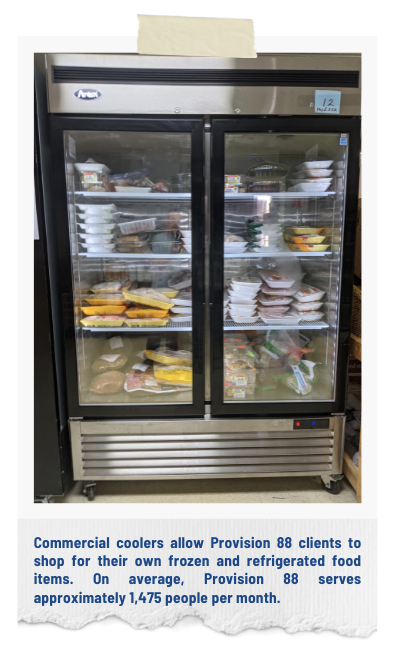 Provision 88
"Provision 88 thrived through the pandemic due to the help we received from the Food Bank of Northeast Arkansas! We received commercial freezers, commercial coolers, a walk-in cooler and a walk-in freezer in the past year! These units allow us to take our 'customer service' to the next level. We are a customer choice pantry. These units allow our customers to shop our cold storage items easily and make the right choice for their family.

"The walk-in units give us the space to take advantage of fresh fruits and vegetables available from the Food Bank of Northeast Arkansas. We have had to turn down these items in the past. Now we have space for milk as well!

"Our freezer storage allows us to provide meal items and frozen meal options as well! We became a USDA pantry during this time, and I now have space for those items when they send frozen and dairy products.
"We received food credits that allowed us to service families multiple times per month and provide when other pantry choices were not available for them. A huge 'thank you' for all the help you provide the people of Northeast Arkansas!"
-Mark Taylor, Director
Provision 88 Food Pantry, Jonesboro, AR
---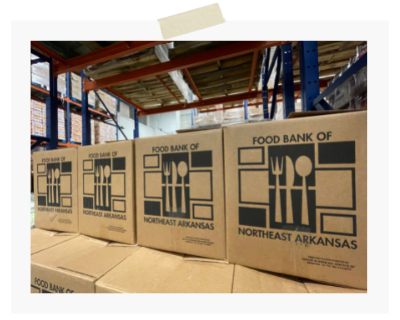 Caring Hearts Food Pantry 
"During the peak of the pandemic, the number of people that we were serving tripled. The food credit was such a blessing. It allowed us the ability to continue to serve the same amount of food that we had been serving and sometimes even more food to three times the number of people that we were used to serving."
- Terry Baker, Volunteer
Caring Hearts Food Pantry, Pocahontas, AR
---
Southwest Church of Christ Food Pantry
"[Before we had cold storage] we just had to turn the refrigerated stuff down. We couldn't take any refrigerated food. We couldn't stock food from the Food Bank that we got every week because we didn't have room for it. But now if they offer us some food, we just take it. We put it in there. We've
got half the freezer out there full. We can plan now. It's very valuable. It's been very helpful to us."
-Norman Rudd, Volunteer
Southwest Church of Christ Food Pantry, Jonesboro, AR
---

Previous Newsletters